The James Sallis Web Pages form an online resource dedicated to the appreciation and analysis of one of the most accomplished writers working in the USA today. This site presents original work by the author as well as interviews, critical comment and reference resources. <! This site presents original work by the author and also offers a variety of supplementary materials, including interviews, critical comment and reference resources. > <! Among the many documents housed on the site is the opening chapter to Jim's last published novel,> <! a href="ghost.html" title="Read the first chapter of Ghost of a Flea "> <! Ghost of a Flea> Original work is accessible via the bibliography pages. All such content is © James Sallis and may not be reproduced without the author's permission. Jim can be contacted by email at JimSallis@aol.com. The site is maintained by Webmaster V.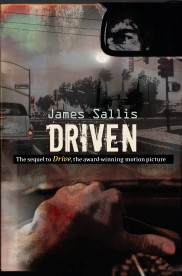 What the critics are saying: reactions to Driven and the rest of the Sallis oeuvre. New reviews posted 5/20/2012
Signed copies (personalized on request) of the latest Sallis books are available from The Poisoned Pen bookstore in Scottsdale, Arizona.
Section spéciale pour les lecteurs de la langue française Mise à jour 20 juillet, 2010
No Exit Press: Sallis' UK publishers.
Walker Books: Sallis' primary US publishers
Host Publications: publishers of Limits of the Sensible World and Potato Tree
Lew Griffin book cover gallery (U.S. reissues)
Latest Sallis News...

<! NEWS>

From May 2013: Jim's off next week to France to take part in Etonnants-Voyageurs (Amazing Travellers), May 18-20 at Saint-Malo, his third time there. "A short trip this time, sadly. But I have to be back on the 25th to play a Three-Legged Dog concert at the coolest venue around, a nature preserve up in the Arizona mountains where everything — lights, sound — is run on solar power." ...from April 2013: Jim's latest novel, Others of My Kind, will be released this September by Bloomsbury Publishing — read a preview here. ...from February 2013: Just released: A new collection of poetry, Rain's Eagerness, from The Aldrich Press! Buy it on Amazon.com or order through your local bookshop. Jim recently spoke on "The Fiction of Genre" at the Desert Nights Rising Stars Writers Conference, participated in a panel on crime fiction, and led a poetry workshop. His band, Three-Legged Dog, played for the Saturday night reception. ...from December 2012: In March, Jim will represent The Piper Center, ASU and southwestern writers in general at the UK's Oxford Literary Festival, with a stopover in Germany to participate in the Cologne Literary Festival.


Click here for news prior to December, 2012

<! COLUMNS>

Most Recent Columns...

Fantasy and Science Fiction — Books — March/April 2013. James Sallis reviews fantasy and SF fiction for F&SF.

<! --- SUSPENDED FOLLOWING SECTION UNTIL/UNLESS COLUMN IS RESTARTED> <! strong> <! Web Del Sol> <! /strong> <! — > <! a href="http://webdelsol.com/f-writinglife.htm" target="_blank" title="Read the latest Writing from Life column in a new browser window."> <! strong> <! Writing From Life> <! /strong> <! (quarterly)> <! /a> <! — April, 2004, "Singing in the Sheaves"> <! /p> <! --- END SUSPENDED SECTION >

Search the site...